Many people are not aware that over 1 million people living in the U.S. will have a stroke or heart attack this year. This will make heart disease the leading cause of death in both men and women in our country. However, we have learned that taking a preventive care approach to heart health can help lower the risk of heart disease now and for years to come. Houston Cardiologist Dr. Nilesh Bavishi prefers to take a preventative approach in arming patients with information that involves lifestyle changes and professional treatment to enhance heart health. These approaches have been successful in many of his patients.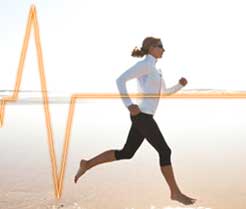 Maintaining heart health is critical because your heart pumps about 2,000 gallons of blood as it expands and contracts approximately 100,000 times per day. Through clinical research, many cardiologists have ascertained that genetics do play a role in a patients' heart disease risk but also lifestyle dynamics and habits are extremely important. Dr. Bavishi believes in a holistic approach to avert the onset of heart disease as well as preventing it from worsening if you have already been diagnosed with a particular heart issue or condition. By making adjustments to diet and exercise, nutrition, and appropriate medications, a patient can possibly increase their heart health by leaps and bounds.
Patients who contact cardiologist Houston professional, Dr. Nilesh Bavishi about heart wellness find out that he has proven methodologies for success. With a state of the art facility, he is able to perform heart evaluations such as: Lipid Management, Electrocardiograms, Echocardiograms, Stress Echocardiograms, Carotid Ultrasound/Dopplers, Peripheral Arterial Ultrasound/Dopplers, Holter Monitorings, Event Recorders, Mobile Cardiac Telemetry, Pacemaker Checks, and more. He is is double board-certified by the American Board of Internal Medicine (ABIM) in Internal Medicine and Cardiovascular Disease, is committed to providing exceptional patient care, and has been in practice since 1995. He has also been given the honorable distinction of Fellow of the American College of Cardiology in recognition of his outstanding credentials and contributions. Additionally, he is a member of the Harris County Medical Society (HCMS) and the Texas Medical Association (TMA). These credentials speak for themselves in terms of not only his qualifications, but his commitment to making sure that his patient's heart health is secure.
Contact Dr. Bavishi today at 713-541-0000 or use the appointment form located on the website if you would like to evaluate your heart health and find out the level of care that Dr. Bavishi has to offer you.
---