Have you woken up with a rapid heart beat at night? Heart rhythm problems, also known as arrhythmias, can occur when the electrical impulses that coordinate your heartbeats are not functioning properly. This can cause your heart to beat too fast, too slow, or irregularly. Although a rapid heart beat at night can be harmless, irregular heartbeats can be uncomfortable and feel like a fluttering or racing of the heart. However, some heart arrhythmias may be a sign of a more serious condition. If feel that this is or may be the case, then you should contact Dr. Nilesh Bavishi. He is a skilled Houston cardiologist who has been in practice since 1995. Thousands have trusted him with their heart wellness because he presents tailored and effective solutions for each of his patients.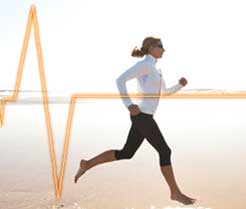 Some people have noticeable symptoms of arrhythmia. Some of these include:
Shortness of breath
Lightheaded
Fluttering heart beat
Racing heartbeat (tachycardia)
Slow heartbeat (bradycardia)
Fainting (syncope)
Rapid heart beat at night
Chest pain
Dizziness
Heart arrhythmia treatment for a rapid heart beat at night can often control the symptoms of irregular heartbeats. Many patients of Dr. Bavishi find they are able to reduce their arrhythmia risk by adopting the regimens that Dr. Bavishi recommends along with a heart-healthy lifestyle that Dr. Bavishi promotes as part of his holistic and preventive approach to cardiac wellness .
Many patients come to see Dr. Bavishi when they have a rapid heart beat at night or when their heart is racing or beating too slowly. Due to these arrhythmias, reduced blood output from your heart can result and cause even more problems. As such, it is important to get evaluated and possibly treatment for these problems. If you have a rapid heart beat at night, you should get evaluated by a Houston cardiologist. If you want outstanding care, get in touch with Dr. Bavishi. Contact us today at 713-541-0000 or use the form located on the website to make an appointment.
---
A Rapid Heart Beat At Night Can Be Very Disconcerting
[Posted on Aug 20]
A Rapid heart beat at night can be very discomfiting and disconcerting. In some instances a rapid heart beat can be harmless and only occurs sporadically. In other cases it can be a sign of a serious condition. Rapid heart rate is a frequent unwanted side effect of an array of drugs and medications. As an example, the prescription drugs used to address an asthmatic problem and hypertension sometimes induce the heart to beat quite rapidly. Together with shakiness, light-headedness and bewilderment, a rapid heart rate is among the most frequent signs and symptoms of low blood sugar. Low blood pressure is another cause of a rapid heartbeat, especially at night.
Recognized for being dedicated to delivering the optimum patient care, patients from throughout the greater Houston area visit The Dr. Nilesh Bavishi Cardiology Clinic. Whenever they require a doctor of Cardiology in Houston to ascertain why they are suffering from rapid heartbeat or any other cardiovascular issue they rely on Dr. Bavishi and his staff. We take a patient focused strategy to health care. Our patients are very important to us and we want them to be healthy.
Whether you are experiencing leg pain when sitting or rapid heart beat at night you should consider visiting a highly regarded cardiologist. Dr. Bavishi is double board-certified by the American Board of Internal Medicine (ABIM) in Internal Medicine and Cardiovascular Disease. He has been in practice since 1995. He has published articles in esteemed medical and science journals and he is an advocate of preventive medicine for cardiac wellness. When you need a veteran cardiologist you can be positive that you will receive exceptional care from Dr. Bavishi.
In the event you are suffering from rapid heart beat at night it is best to get in touch with a cardiologist as quickly as possible. Call the Dr. Nilesh Bavishi Cardiology Clinic and one of our welcoming staff will be pleased to schedule an appointment with Dr. Bavishi. For more information about our practice and treatments we recommend that you continue looking through our web site.