Heart palpitations are a feeling that occurs when someone has rapid or fluttering heartbeats. Often it feels like your heart is racing or pounding too fast. There are many heart palpitations causes and these can be triggered by a multitude of stimuli including medication, stress, exercise, or even another medical condition. Dr. Nilesh Bavishi is a top Houston Cardiologist who has made it his mission to provide cardiac wellness to thousands of satisfied patients. He can treat your heart palpitations causes and offer methods to prevent them from reoccurring.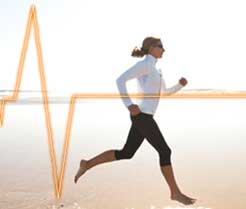 Dr. Bavishi is double board-certified by the American Board of Internal Medicine (ABIM) in Internal Medicine and Cardiovascular Disease and is committed to providing extraordinary care to his patients since 1995. He is a talented cardiologist who uses a holistic and preventative approach to heart health. He knows that heart palpitations causes can be worrisome and nerve-wracking. Although it might not be a grave situation, it could be a symptom or presentation of a more serious heart condition, such as an irregular heartbeat (arrhythmia) that may require treatment. The cause of your heart palpitations causes can vary. Some reasons include:
Caffeine
Nicotine
Enlarged heart
Overactive Thyroid (Hyperthyroidism)
Developed or Congenital Arrhythmias
Stress or anxiety
Heart disease
Strenuous exercise
Anemia
Hormone changes
Cold and cough medications that contain pseudoephedrine, a stimulant
You should make an appointment with Dr. Bavishi if you have racing or irregular heartbeats and would like to get these heart palpitations causes evaluated. Some worrying signs that suggest more prompt evaluation by a physician are when heart palpitations are accompanied by symptoms like:
Severe dizziness
Fainting
Chest pains or discomfort
Severe shortness of breath
If you have any of these symptoms you should get help right away and should visit an Emergency Room if you feel the need. If you want to get care for your heart palpitations causes from a heart specialist, get in touch with Dr. Bavishi. Contact us today at 713-541-0000 or use the form located on the website to make an appointment.
Featured Video:
Dr. Nilesh Bavishi Can Determine Heart Palpitations Causes
Palpitations are heartbeat sensations that feel like your heart is pounding or racing. You may merely have a disagreeable awareness of your own heartbeat, or you may experience skipped or stopped beats. Palpitations can be felt in your chest, throat, or neck. They are usually not serious. However, it depends on whether or not the sensations represent an abnormal heart rhythm. Some heart palpitations causes are anxiety, stress, fear, caffeine, cocaine, diet pills, exercise, heart valve disease, and nicotine. One should pay attention to your heart. If you listen to your body it can often let you know that something may not be quite right. If your heart palpitates it may be nothing or it could be an indication of something serious.
---